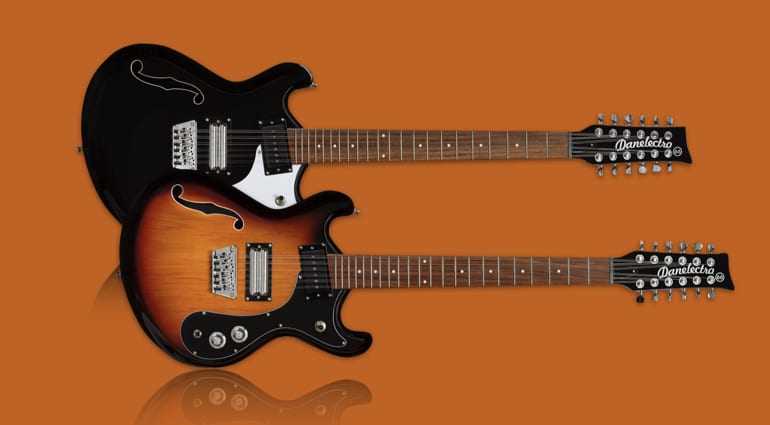 Our "66" is killing it on stages and in studios across the globe. Now we add the Wilkinson tremolo and voila… the 66T. A toneful combination of large single coil and Lipstick Humbucker pair.   Pull on tone knob to coil tap the Humbucker. One guitar you will cherish forever!
Tonally, a Dano sits somewhere between a Telecaster and a Rickenbacker 330. Any way you slice that, you get bags of sparkle and presence that responds beautifully to compression and light overdrive, particularly on the coil-split setting. As we discovered on the old '66, the knobs are fiddly, so engaging the coil split on both new Danos takes the edge of a pick or a fingernail. It's worth the effort. You get a great Tele-like twang with the bonus of the springy vibrato. 
Running the 'bucker on full power allows both guitars to find a classic rock or even metal voice. Add in the warmth that the neck P-90 brings in and you've got a fantastic tonal palette to work with.
When we put the hardtail '66 through its paces it behaved itself impeccably, at least until it received a clip 'round the earhole when we spotted the price tag. A year on, we've made our peace with the RRPs. Face it, you're going to get a deal on a '66T anyway and, besides, the versatility, build quality and tonal charms of this guitar make it worth the money.